I don't know about you, but after watching Snowwhite a gazillion times, I would not take an apple from a witch! :-) Yes, a gazillion times is being very generous, it was one of my daughter's favourite Disney movies when she was little and trust me when I tell you that I could sing every song backwards!
Challenge # 144 ~ Make it Spooktacular!
Our wonderful sponsors this week are:
Prize: 3 Digital Images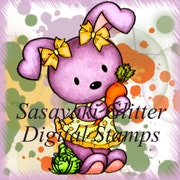 Today's card was made with an image from Cute as Button, called "Have an Apple Witch". Since our challenge is to make it Spooktacular, I thought it would be fitting to give her a whole house and graveyard wherein she can make all her concoctions.
I used a Silhouette file, design #
95060, for the card.
As you can see I cut out another two cats from the image to add to the graveyard.
Cardstocks used are all from Bazzill.
I used copic markers to colour the images.
I also added a few little ghosts for a little extra sooky fun.
I'm so glad you stopped by today. Now it's your turn to make a Spook-tacular project and link it to our challenge #144 for your chance to win one our wonderful sponsored prizes.
You have till noon, CST, on Tuesday, 17 October 2017, to link your project to the Crafty Gals Corner blog. And while you there, take a look at what my DT teamies made for your inspiration this week.